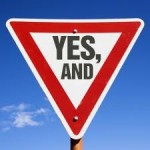 "Information is a very weak form of communication" – Spolin
I have been working with Spolin Games for the last thirty years. I first began in an improv comedy class learning how to be fast and funny with a group of very talented actors, who are still playing today (Off the Wall LA). Then, by happy accident, I encountered Viola Spolin and her genius for improvisation. Since then I have been exploring the ideas that she used to create the first improvisational technique to create Improv Theater.
I have studied other forms of Improv styles over the years. I've taken classes from many improv teachers since Viola Spolin and even performed for several years in a group that use Keith Johnstone's Impro formats and ideas. I have also met and worked briefly with Keith Johnstone and watched the master of Impro at work.
What I am about to discuss, comes not from any condescension or blind loyalty to Spolin's work, but a considered opinion based on all my experiences in the world of Improvisation as teacher and student.
Improvisation has swept the world since Spolin and Sills introduced the form in the 1950's. Since then, it has changed and been adapted and shaped by other thinkers, teachers, and students. Among them Del Close, Johnstone, Dudley Riggs, and Second City.